Registry Key Properties
---
Registrar Registry Manager allows you to view detailed information on registry keys including statistics.

To display the properties of a registry key, select any registry key in the tree or view and click with right and choose Properties from the popup menu that appears.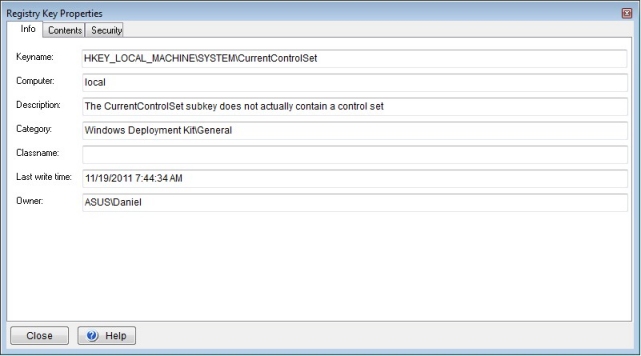 Advanced registry key property pages displaying detailed information and statistics.
Description of displayed fields
The keyname field displays the path of the registry key. The computer field displays the name of the computer the key is on. If the registry key has been bookmarked then the Description field will display its description.
In the key contents fields, there are two columns which display the statistics of the registry key as well as the registry keys including all its subkeys. Subkeys means the number of children of the registry key. The Values field displays the amount of values of the registry key. Largest value displays the largest data size among its keys.
The classname displays the classname of the registry key which may have been set upon creation. Last write time represents the moment the last write activity took place on this key. Owner displays the object owner of the registry key. In order to take ownership, press the Take Ownership button.
The buttons Permissions and Auditing will bring up Windows security dialogs. Refer to Registry Permissions or Registry Auditing or press Help from within these dialogs for more information.
---
Online Help Topics
Introduction
About the Registry
Editing the Registry
Registry Tools
Registry Security #EADING>
Registry Files
· Importing and Exporting Registry Files
Remote Registry Editing
Advanced Options
---
Copyright © 1997-2023 Resplendence Software Projects. All rights reserved. Privacy Policy.
Page generated on 4/1/2023 10:42:43 AM. Last updated on 9/19/2019 12:22:38 PM.
---