Browsing the registry
---
Registrar Registry Manager provides a common and user friendly interface which allows you to quickly find the keys and values you are looking for.
To edit your local registry, click Edit Local Registry from the main application toolbar. You will see a tree and a view representing the keys and values of your registry. The interface is very similar to Windows explorer, but then instead of folders you see registry keys and instead of files you see registry values. You can use the same navigation buttons (forward, back, up) as in Explorer. Also, the copying and moving of keys can be accomplished in the same manner through cut, copy and paste or using drag and drop.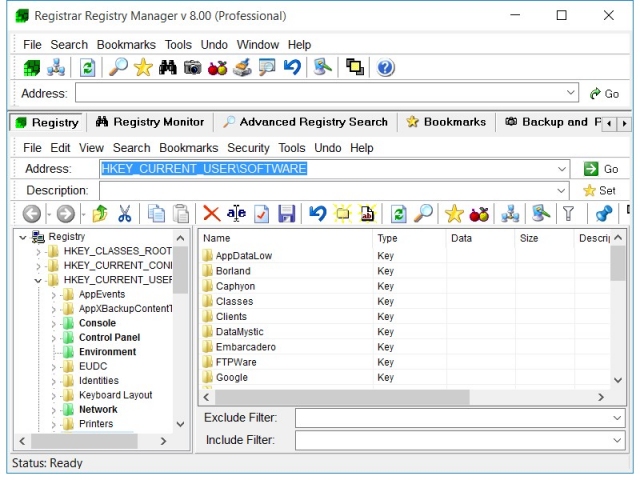 Browsing the local registry in the main registry window.
Navigating the registry
You can navigate through the registry tree to find the key you are looking for. (Note: if the registry tree is not visible, select Registry Tree from the View menu). By selecting a key in the registry tree, the contents automatically become visible on the right.
Address bar
If you know the exact name of the registry key or value you want to access, you can directly type it into the address bar for an immediate registry jump. The address bar can also be used to copy the current key name or value to the clipboard.
Expanding and collapsing registry branches
The + and - signs in the registry tree can be used to expand and collapse registry branches by clicking on them. Note that there is an option Expand All that you can choose from the menu that appears when you right click on a key in the registry tree. Selecting this option will expand all branches that can be found in any of the subkeys of that branch. Depending on the amount of subkeys of the branch, this can take a long time.
---
Online Help Topics
Introduction
About the Registry
Editing the Registry
Registry Tools
Registry Security #EADING>
Registry Files
· Importing and Exporting Registry Files
Remote Registry Editing
Advanced Options
---
Copyright © 1997-2023 Resplendence Software Projects. All rights reserved. Privacy Policy.
Page generated on 4/1/2023 10:14:23 AM. Last updated on 9/19/2019 12:20:01 PM.
---