Advanced Registry Compare
---
Registrar Registry Manager offers an advanced registry compare tool which shows you the exact differences between two registry keys. The keys may reside on separate computers or even be stored inside a registration file.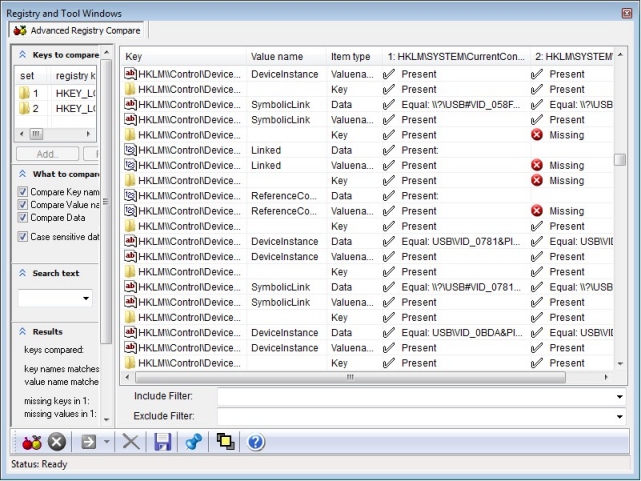 Comparing two registry keys
First select two registry keys to be compared with each other. Click the Add button to browse and select two registry keys of you choice. You can select whether to compare any combination of key names, value names and registry data. If you want to narrow down the set of registry keys to be compared you can enter a text string to search for. Only registry keys, values and data containing the entered text will then be compared and displayed. Click the Compare button in the lower left corner of the screen to start the compare process. All selected registry keys, values and data entries will be displayed in the grid in two separate columns next to each other. The compare tool will display whether registry keys and values are present or missing and whether registry data in the selected sets are matching or different from each other.
---
Online Help Topics
Introduction
About the Registry
Editing the Registry
Registry Tools
Registry Security #EADING>
Registry Files
· Importing and Exporting Registry Files
Remote Registry Editing
Advanced Options
---
Copyright © 1997-2023 Resplendence Software Projects. All rights reserved. Privacy Policy.
Page generated on 4/1/2023 9:19:53 AM. Last updated on 9/19/2019 3:31:04 AM.
---