---

---
Introduction
---
Target audience

Novice users

Intermediate users

Power users

System administrators

Support engineers

Developers
A complete award-winning registry management solution with a wealth of powerful features.

Latest version: v7.52
Registrar Registry Manager is an advanced and complete suite of tools that allows you to safely maintain your local registry as well as the registries on the systemsof your network. Since many years, Registrar Registry Manager has been the expert's choice in registry management.

This software offers solutions for backing up and restoring registries, fast background search and replace, a bookmark editor with categories which supports key coloring and adding descriptions to registry keys and values, detailed property pages, tools for easy navigation. The programoffers multi-level undo so all registry changes can be individually undone.

The software offers a registry defragmenter as well as a registry monitor which logs registry access by the system and other applications in detail. It providessecurity editors which allow you to set access permissions on your registry keys. An advanced registry compare tool allows you to check the differencesbetween two keys in detail. Registry files can be edited in a separate registry window.


---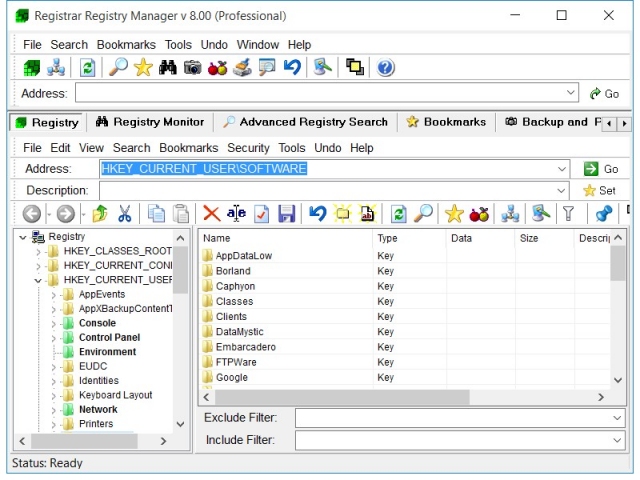 Fully supports Windows 8 and Windows 7
Registrar Registry Manager 7.50 supports all versions of Windows 8, Windows 7 and Windows 2012 Server. For a list of supportedoperating systems, click here.
Take control of your system configuration
The Windows registry is the key to all hardware and software configuration.This powerful and reliable registry manager will help you get the most out of your system.
For each Windows operating system, there are hundreds of registry tweaksand registry key descriptions included to help you find your wayin the forest of system tweaking and optimization.
Powerful and complete collection of tools
Registrar Registry Manager includes the right collection of power tools which willdo the right job in any registry editing situation. Tools include registry monitoring, blazingfast search and replace, backup and restore, advanced compare, bookmarks, a file reference editor, a CLSID utilityand much more. Take a tour of features to see what Registrarhas to offer.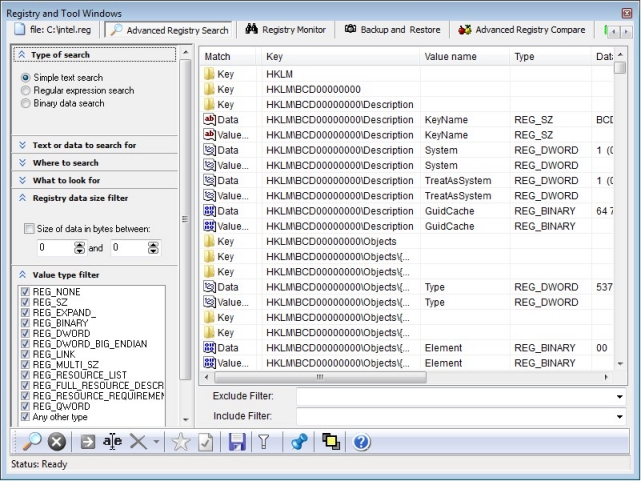 ---
Comes in both 32-bit and 64-bit editions
The professional version of Registrar comes in both 32-bit and 64-bit editions. On an x64 version of Windows, the 64-bit editionoffers significantly better performance and other advantages.
Repair broken Windows configurations
Registry file editors allow you to editthe registry files which make up the systems registryimage on disk. This feature has been a life saver to many administrators who managed to recoverbroken Windows configurations this way.
Increase safety with a reliable registry backup system
Reliable registry backup and restorefeatures will give you the securitythat new hardware or software installations will not become irreversible in the case of a failure.
On top of that, every registry operation performed with the program can beindividually undone.
Maintain remote systems easily
Get complete control of your network by using the remote features of Registrar Registry Manager.Each remote registry will be opened in a separate window and will give you the samepower and flexibility as on the local registry.
Keep your registry clean and healthy
The registry defragmentation tool will reclaim wastedspace and keep your registry running smoothly. The advanced registry search,replace and delete tool will help you to find and destroy unwanted registry entries quickly. Thenew file reference editor will allow you to find registry references to non existing files.
Command Line Edition included !
The command line edition which offers a advanced set ofbatch scripting utilities for registry management is now freely included in the professionaledition of Registrar Registry Manager.
Overview of features with screenshots
Check here for an overview of features that Registrar offers.
---
Registrar Registry Manager documents and articles
---